Karen Derenthal Schmidt
Senior Vice President of Project Finance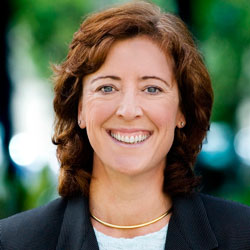 Karen Derenthal Schmidt joined Eurus in May 2008 as Vice President of Project Finance. Karen is responsible for all aspects of project financing within Eurus Energy. She works closely with the business development team to provide finance and structuring input during the development phase for projects and is responsible for executing the company's project financing transactions. As part of the Eurus Energy solar team formed in Fall 2008, Karen is also involved in the identification and execution of the company's strategy to develop its solar project portfolio.
Prior to joining EEA, Karen was co-founder of Merzbach Carbon Finance, a private firm active as an originator and aggregator of emissions reductions credits generated from clean energy projects and traded in both the compliance (Kyoto CDM/JI) and voluntary markets.   Karen began her investment banking career in 1984 with BNP Paribas, one of the largest banking institutions worldwide, where she was Global Head of Project Finance – Energy Industry. While at BNPP, Karen worked on financings in the infrastructure, energy, process industry and natural resource sectors and successfully closed on some 35 project financing transactions for over $5 billion in invested capital.
Karen, a native San Diegan, graduated cum laude from San Diego State University in 1984 where she earned a Bachelor of Science degree in Business Administration Finance and a Bachelor of Arts degree in French. She also earned a Certificat-Langue/Litterature from the Université d'Aix-Marseilles.