Contact Eurus Energy America today
Thank you for your interest in Eurus Energy America Corporation. Please direct any additional comments or questions you may have to:
North American Headquarters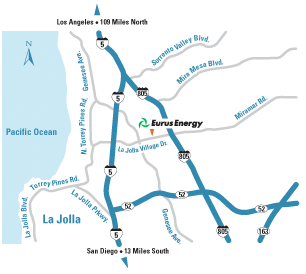 Eurus Energy America Corporation
9255 Towne Centre Drive, Suite 840
San Diego, CA 92121
Tel: 858-638-7115
Fax: 858-638-7125
Email: info@eurusenergy.com
Additionally, we encourage you to learn more about the Eurus family by visiting the website of our parent company, Eurus Energy Holdings Corporation, at
www.eurus-energy.com.
Click on the map for a larger view
(PDF 272 kb download)
Don't have Adobe Acrobat Reader? Get it here.