Joe Stevens
Senior Vice President, Operations and Asset Management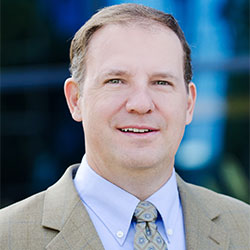 Mr. Stevens joined Eurus Energy in 2013 as Vice President, Operations and Asset Management. Prior to joining Eurus Energy, Mr. Stevens had worked as the Director of Development and Construction Technical Services at AES Wind Generation since 2009.
Mr. Stevens began his career in the wind industry in 2002, joining Garrad Hassan America (now GL Garrad Hassan) where he ultimately served as the Vice President of the Independent Engineering Group for his last few years at GH before joining AES Wind Generation.
Prior to the wind industry, Mr. Stevens worked in the shipbuilding industry spanning the Gulf of Mexico coast to the California coast for over thirteen years as a mechanical engineer focused on specification, integration, design, and testing related to propulsion and power plant equipment and systems for large ocean-going ships.
Mr. Stevens graduated from Mississippi State University in 1990 with a B.S. degree in Mechanical Engineering and is a licensed Professional Engineer in the State of California.