Robert Eisen
Senior Vice President of Development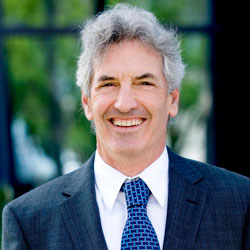 Mr. Eisen joined Eurus Energy America in 2007 and leads Eurus' wind development efforts. He is responsible for coordinating greenfield site acquisition and overseeing wind projects through construction. Mr. Eisen is also responsible for the identification and purchase of development assets, including the initiation of joint development projects.
Mr. Eisen was an early participant in the wind industry, having joined SeaWest Power Systems (now AES SeaWest) in 1984. Mr. Eisen helped SeaWest expand from 6 to 160 employees. Mr. Eisen has developed projects in the United States, England and India and was instrumental in creating the Sagebrush partnership, which built and owns a 46 mile private transmission line through Los Angeles and Kern Counties, California. He has held Chief Financial Officer and Chief Operating Officer positions with leading wind development companies.
Prior to joining the wind industry, Mr. Eisen lived in New York City, where he earned his CPA working for an international accounting firm. In addition to his wind energy experience, Mr. Eisen has also been a bankruptcy trustee, owned and operated a restaurant, and co-founded a company that sells licenses for structural support systems based on company-developed patents.
Mr. Eisen attended the University of Pennsylvania, where he received his Bachelors of Science in Economics. Mr. Eisen also received his Masters of Business Administration from The Wharton School at the University of Pennsylvania.