Satoshi Takahata
President, CEO & CFO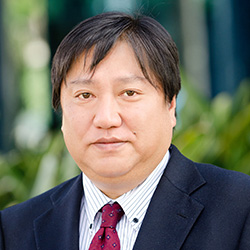 Mr. Takahata joined Eurus Energy America Corporation (EEA) in 2014 and serves as President, CEO and CFO.  Prior to this, Mr. Takahata served as General Manager, Business Development-Japan1 of Eurus Energy Holdings Corporation (EEA's parent company and joint venture between Tokyo Electric Power Company and Toyota Tsusho Corporation).
Mr. Takahata has worked in energy project engineering, development, construction and operation for more than 25 years.  Mr. Takahata began his career in Tokyo in the industrial machinery department of Tomen Corporation, a Japanese general trading house and the original parent company of Eurus in the late 1980s.   Mr. Takahata later served the project engineering department team of Tomen Corporation in Tokyo before overseeing wind project development in Spain for Eurus Energy Europe B.V. (EEA's European energy affiliate) and later wind and solar project development in Japan for Eurus Energy Holdings Corporation.  During his tenure at Eurus, Mr. Takahata has overseen development of over 400MWs of renewable energy in Europe and Asia.
Mr. Takahata graduated from Nagasaki University in Japan in 1983 with a degree in economics.